EcoSystems is planning, developing and marketing a network of environmentally sound, affordable and sustainable communities. Sustainability means "a continuing process of economic and social development, in both developing and industrialized nations, that meets the needs of the present without compromising the ability of future generations to meet their own needs." [Global Tomorrow Coalition]
The EcoVillages Concept
In the context of growing consumer awareness of environmental issues, there is a great need for practical, affordable communities supporting an environmental lifestyle that won't compromise modern expectations of personal comfort and social stability. The EcoVillage lifestyle can be supported by integrated technologies and community benefits, including:
SUSTAINABLE ENERGY AND WATER
Each community will be a model for energy self-sufficiency. Passive solar design, southern facing greenhouses, solar hot-water and rooftop photovoltaic electrical systems can provide heat, water and electrical energy. Sky-lights, wall mirrors, fresh air ventilation and low energy-use appliances can reduce overall energy requirements. Low-flush toilets and special shower heads, gray water use and rain collecting systems, all can contribute to overall low-water consumption.
SUSTAINABLE AGRICULTURE


The Natural Bridges Homeless Garden

Each EcoVillage community will utilize cluster housing and will curtail internal roadways to free space for community agriculture. Creative earthwork will channel rainfall runoff into irrigation and aquaculture ponds. Edible landscaping will provide fruits and nuts, with private areas for individual Organic Gardens. A community farmer or gardener hired by the homeowners' association will provide food management, cultivating and other services according to community needs. Each harvest will be available in the EcoVillage community store. Towards establishing this approach, the Santa Cruz Homeless Garden is already operating at our proposed EcoVillage site in Santa Cruz.
RECYCLING & RESOURCE MANAGEMENT
Advanced recycling systems will eliminate most solid waste, and will include recycling of household materials, purification and recirculation of water, and composting.
UNIQUE CLUSTER CO-HOUSING DESIGN
In addition to conventional housing, self-contained single family studio and one-bedroom units will be clustered around common activity, living, workshop and recreation areas. Private yards, patios and gardens will surround each co-housing cluster. Natural materials, rough sawn timbers, super-insulation, and large glass southern exposures can create beauty, energy efficiency and innovative design.

Take a look at what is being planned by our neighbor, UCSC's Long Marine Lab at Terrace Point and offer your comments. Also details of the Marine Science Campus (formerly Long Marine Lab) Coastal Long Range Development Plan's Draft EIR are available.

CO-DEVELOPMENT, DESIGN & CONSTRUCTION


Schematic Plan, Natural Bridges

The principle of sustainability implies a commitment of community members to each other and to the needs of future generations. This commitment evolves naturally whenever residents begin participating from the inception of a development project. EcoSystems employs innovative planning, design and building methods to enable home-buyers to participate in the design and construction of their own homes.
DIVERSE SETTINGS
EcoVillage communities are planned for diverse settings, including coastal, agricultural, recreational, and urban environments. Hiking and bicycle paths will be created by eliminating unnecessary auto traffic through the communities. These settings offer beauty as well as recreational and health benefits.
TELEWORK ON-SITE OFFICE CENTERS
EcoVillage work centers will combine high technology information services with high methodology management and personal growth services. Commercial, home office and studio facilities will be available with broad bandwidth communication links for tele-conferencing, desktop publishing, and data-base access, plus secretarial, bookkeeping, and fax services.
OWNERSHIP OPTIONS
The co-housing concept will include entire or partial ownership. Financing programs will include conventional, equity share and "self-help" sweat equity.
---
For more details, refer to Site Plans prepared in 2002 and A Concept Plan for Natural Bridges, prepared in 1992.
---
Our first project was Baggins End, built by students at UC Davis in 1972.
---
---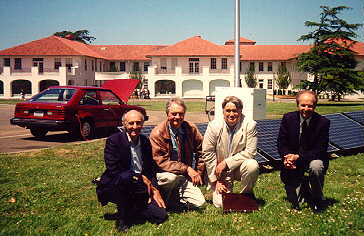 Ron Swenson, John Hernikl, John Deamer, and Frank de Winter at the dedication of the Thoreau Center for Sustainability in San Francisco, June 1996 (at EV solar charging station)
THE ECOSYSTEMS TEAM
For EcoVillages development, EcoSystems, Inc. provides master planning, capital formation, properties acquisition, ecological/economic technologies, approvals, project management, construction and marketing services.
updated 2002 April 27