UltraLight Rail
Progress Report
---
December 1996: Progress is being made on engineering design definition. Things have been set back a bit as we have reviewed and digested the Proposed Rule for Passenger Equipment Safety Standards by the Federal Railroad Administration.
---
August 1996: Not exactly progress on the national front!

DOING WITH LESS

"Amtrak last week disclosed plans to restructure its system nationwide, eliminating 3,000 miles of passenger routes in the West and cutting service to 42 cities, while restoring service on some other lines. The changes respond to expected lower levels of federal capital and operating aid and to continued uncertainty over a dedicated capital funding source."

From: Transport Newsgroup, Mobilizing the Region, No. 92, 19 Aug 1996, Tri-State Transportation Campaign
---
May 1996:
... the return of the


on May 18, 1996
For the SunTan Special event at the Boardwalk, we constructed a mockup to give our future riders a chance to appreciate the scale of the vehicle and (if they have a lot of imagination) an idea what it might look like.

Note the low profile and general shape outlined by the tubing and yellow ribbon.



---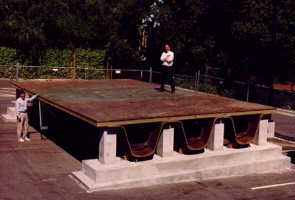 March 1996: One member of our team, Allan Miller, works with Lockheed Martin in the development of composite structures. A composite bridge designed by Allan and his associates was featured in the March 1996 issue of Popular Mechanics magazine.
Based on our preliminary design assumptions, Allan has calculated that the weight of the primary composite structure of our ultralight rail vehicle will be around 1,500 pounds.

---
updated 1997 February 9