The Principles of Ecological Economics
ENERGY ECONOMICS
EcoSystems applies energy technologies to do more with less. Going beyond efficiency, we employ solar energy to sustain human culture without drawing down our natural resources -- our "natural savings bank."
"MINING" EXTRACTS AND EXPLOITS -- YIELDING A HOLE IN THE GROUND;
"CULTIVATING" IMPROVES AND NURTURES -- YIELDING MORE FERTILITY.
Virtually all modern economic systems are based on the continued exploitation of nature.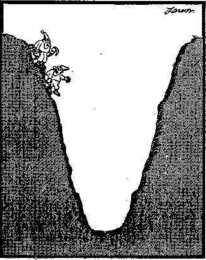 "Because it's not there."

In a mining economy, trees are extracted from old-growth forests, minerals are mined from the ground, petroleum is consumed as a fuel. In none of these commodities do the economists assign a real value to the actual resource, but only to the cost of "production" (i.e., extraction).

On the brighter side, stewardship practices are emerging. At the end of the day, cultivating economies will be more fruitful than at the beginning of the day -- with more fertility, more soil, and a brighter future for the next generation.
DEPLETION AND REPLETION
Modern societies have consumed resources that will become inaccessible to future generations, and have even set up mechanisms to reward individuals who do so. For example, the so-called "oil depletion allowance" encourages subsidies by future generations for the benefit of our own generation. Now there is an alternative....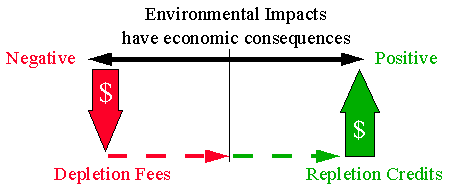 with the result that depletion fees are transfered to repletion credits.

We can create benefits for restoration, for "repletion," and impose fees for depletion of natural resources which belong to our common heritage. Repletion credits can be given for planting trees, for recycling, and the like. The logical source of funds for these credits is the fees that can be imposed for depletion of related resources.
---
---
Contact EcoSystems
---
updated 1997 February 10